We are a friendly and committed group who are all passionate about empowering people to thrive and enjoy good mental health and wellbeing.
Andy Watmough
Andy Watmough joined us as Chief Executive Officer in January 2021. Having spent 25 years working with Community Voluntary Organisations in the North East, he has gained experience across a range of sectors including: mental health & wellbeing; advice & guidance; children, young people & families; employment & skills; community engagement and volunteering!
He is passionate about overcoming inequality and committed to working with partners to simplify and join-up client pathways, aiming to make sure that services are as accessible as possible – with 'no wrong door' for people who need support. 
When Andy is not working, he enjoys spending time with his family on campervan adventures… trying to escape to places where there is no mobile signal, standing at the bottom of rockfaces and boulders (often in Northumberland) and trying to climb up them!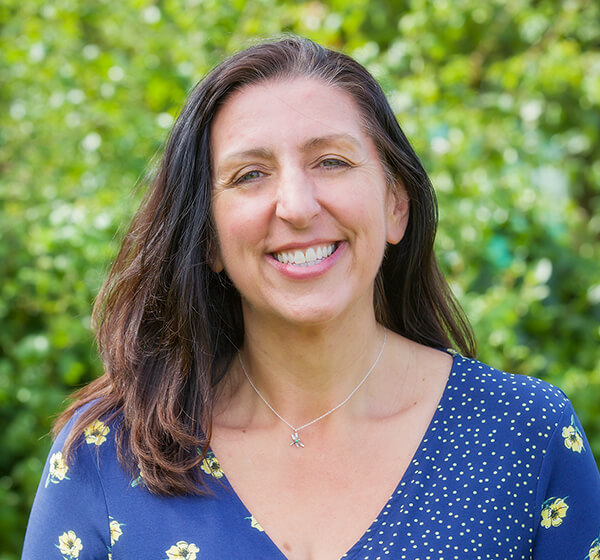 Lucy Greensmith
Lucy Greensmith is our Counselling Manager who started volunteering with us in 2011. Lucy wanted to volunteer with us because she liked our philosophy of delivering holistic support to people. After volunteering with us for two years Lucy stayed with us in a paid role and became a manager in 2016. Her current role sees her managing the counselling service; ensuring that staff and volunteers deliver ethical and professional services. Lucy's family, her pet dog and volunteering as a Guider keep Lucy busy when she is not at work.
Amanda Sayers
Amanda Sayers is the Coordinator, Coach and Trainer with the Bridge Project and has worked with us since March 2018.  Amanda supports people through one to one coaching and the Bridge personal development workshops. All her work is aimed at improving peoples' wellbeing, life skills and supporting them to reach their full potential.
Amanda has worked in the voluntary community sector for over twenty years in education, training and community development roles. Originally not from the area Amanda settled in the North East and loves to explore Northumberland's beautiful countryside and coast.
Lucy Taylor
Lucy Taylor joined Cygnus as part of the Bridge Project in 2018 and is currently the North of Tyne Covid Response Project Helpline Counsellor. Lucy takes calls from those impacted by Covid-19 and offers a listening service along with being able to refer into Cygnus' counselling team and signpost to our other projects, or external organisations where appropriate. Lucy enjoys being able to offer mental health support at the point of need and using her counselling skills to provide relief to clients throughout the on-going pandemic. When she's not working, Lucy enjoys going to Northumbrian beaches and the Lake District with her family. 
Lorraine Burley
Lorraine Burley is our Bridge Counsellor on the Bridge Northumberland project.  Lorraine first became involved with Cygnus Support during her final year of counsellor training in 2009, becoming part of the Bridge team in 2019.  As a result of Covid 19, Lorraine is working from home, offering telephone or video call sessions to clients.  Lorraine strongly believes in the ethos of Cygnus and that the welfare of all clients remains at the core of everything we do, and that it is a privilege to be able to work with the clients who access our service and be part of a team of authentic and caring individuals.  Lorraine enjoys gardening, reading and strength training circuits, having also developed a love for baking and eating cheese scones during lockdown!
Victoria Chan
Victoria Chan has worked as a Domestic Abuse Counsellor at Cygnus Support since June 2016. Victoria is qualified in Therapeutic Counselling with her core training being in Cognitive Behaviour Therapy.   She has over five years' experience working with survivors of domestic abuse. Victoria is very passionate about empowering people to be the best version of themselves bringing hope to people whilst improving their mental wellbeing. 
Andrea Mason
Andrea is a part-time Cygnus Counsellor funded by North of Tyne to support clients who have been affected physically, psychologically or financially by Covid 19, a post taken up in July 2020.  Andrea is currently working from home, counselling clients either via telephone or Zoom, due to the current lockdown restrictions.  Andrea started out with Cygnus in 2017 as a Volunteer.  Andrea feels humbled that her role gives her the opportunity to be alongside people on their journey, providing therapeutic support to help with issues and alleviate distress, and to be part of such a caring service in these uncertain times.  Andrea enjoys Yoga and HIIT training online classes, reading, cooking and walking her Golden Retriever, and spending time with her family.
Charlie Callender
Charlie is a Cygnus Counsellor funded by the North of Tyne to support clients who have been affected physically, psychologically or financially by Covid 19.  Charlie has been working with Cygnus Support since 2019 and in the charity sector much longer. Charlie loves being an integrative therapist and has a special interest in supporting clients who have experienced sexual violence. Charlie can usually be found with family playing games, enjoying the arts, wandering around lost in nature, and sipping or wishing for iced drinks, no matter the weather.
Elspeth Gilliland
Elspeth Gilliland started volunteering with us in 2018 and joined the team as Young Person's Counsellor in July 2020. She is passionate about supporting young people in improving their mental health and wellbeing and strengthening their emotional resilience.
When she's not at work Elspeth enjoys pottering in her garden, exploring the Northumbrian countryside with her dog and spending time with her family.
Gemma Graham
Gemma Graham is our Bridge counsellor on the Bridge Northumberland project. Gemma first became involved with Cygnus Support during her final year of counsellor training in 2015, providing one to one therapy to survivors of domestic abuse. Her newly appointed role within the Bridge project will involve carrying out assessments and delivering counselling to individuals across Northumberland.
Gemma is passionate about working therapeutically with people that have been impacted by the effects of trauma. Her approach has been described as caring and supportive, and she always has the individuals best interests at the heart of every session.
Tom Roberts
Tom Roberts is a Bridge Worker with the Bridge Project and has worked with us since March 2020. Tom supports people on a one to one basis to move them closer to education, training and employment.
Tom has worked in the voluntary sector for over 10 years and is passionate about helping people to realise their full potential.